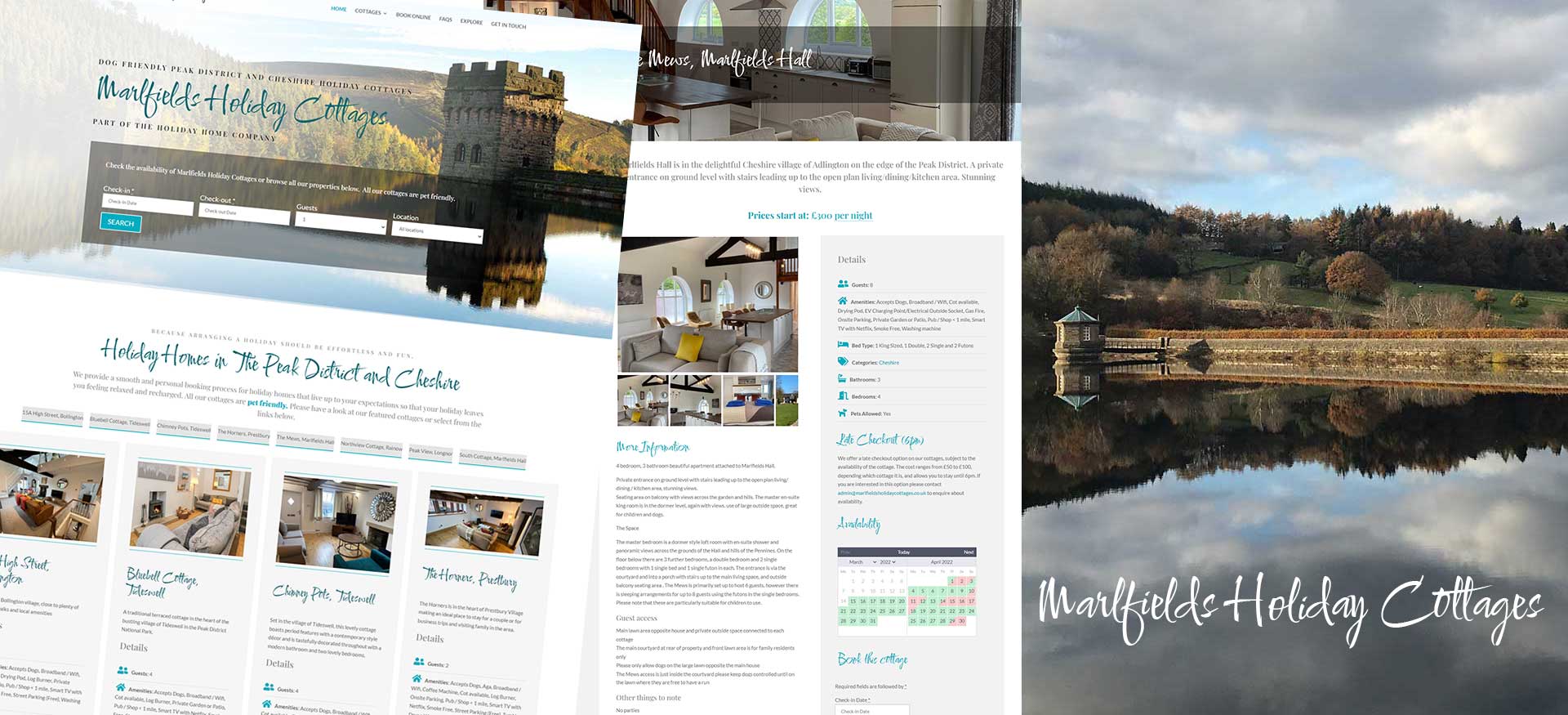 Marlfields Holiday Cottages, dog friendly accommodation in the Peak District and Cheshire
A website for multiple holiday cottages that allow searching for a suitable property and online booking.
The brief
Marlfields Holiday Cottages wantd a website with online booking so they could promote their beautiful holiday accommodation online without paying the popular booking engines everytime a booking was made. The website needed to make the booking process simple for the user but also enable a more time efficient process for Marlfields to manage bookings.
The solution
PepperStreet decided to use the well known MotoPress Hotel Booking plugin to facilitiate this brief. The plugin is one of the market leaders and offered out of the box functionality to deliver multiple properties and great search functions as well as online booking without the need to install WooCommerce. The plugin was originally developed for hotels with multiple rooms but has been adapted to apply to other accommodation websites such as self catering cottages. The plugin was a little clunky to use and often we had to adapt work arounds to achieve what we needed but all in all for $99 it provided a very robust starting platform.
The main features we love:
The integration with the Air BnB and Booking.com calendars so you can sync website bookings and to other channels and vice versa so avoiding double bookings.
The search function was good, and also mobile friendly
We liked the dynamic pricing which allows the set up of multiple seasons each with a different rate per night, so high season and low season can differ also within a season you can add another season. So we have low season but for Feburary half term a new season puts the price up for just that week. This can all be managed by the client easily.
We didn't use the booking extras but you can add those such as a cost for dogs say or perhaps car parking per day or for the entire stay.
Set up min and max stays
Set up payments so for Marlfields a deposit is taken on booking and the full amount requested 21 days prior to stay, all of this can be configured to your needs.
We also purchased the email add on allowing automatic emails to be send prior to arrival with check in details  and even follow up emails after departure asking for reviews.
We installed the payment request plugin which automatically requests payment balance, less admin for Marlfields.
We think we have delivered a really good nice looking website for Marlfields that delivers a greatuser expereince in selecting and booking holiday accommodation. Obviously with a marketplace as busy as holiday accomodation it will need some ongoing SEO work but we are happy with our starting plaform.
Project URL
Features
WordPress Build and Development
Get in touch
If you feel that PepperStreet can help your business develop it's digital presence please call on 07748 140697 or email hello@pepperstreetwebdesign.co.uk