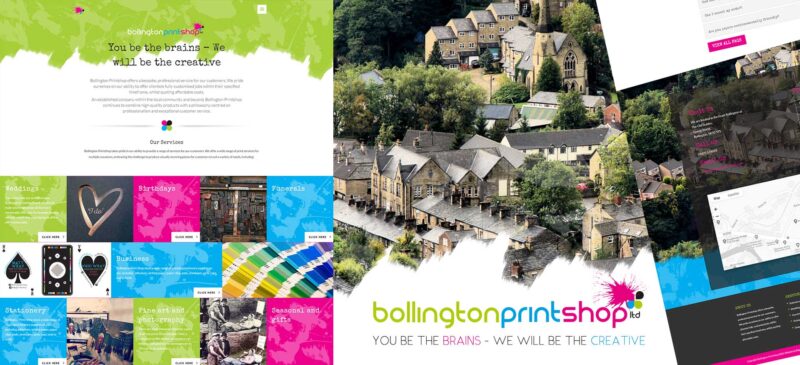 Fresh and Funky for local printshop rebrand
The Bollington Printshop is a local business in Bollington supplying design and print work to the local community and beyond. When new owners Vicki and Matt took over the printshop more than a year ago they inherited an old and dysfunctional website. PepperStreet was asked to take on the job of modernising the web presence of the business.
The Brief
PepperStreet was asked to:
Create a new website in line with the new brand and tone of the Printshop
Increase SEO via onPage SEO and content
Make the user journey through the site easy and increase conversions on the contact pages
Design a website that would look great
The Work
PepperStreet took the content that had been written for the new website and set to work integrating it into a proper user journey which would allow people to see and understand the breath of services offers by the Bollington Printshop. We mapped out the sitemap and set to work trying to create a design that was appealing and funky. It needed to reflect the creativity that Matt brings to the business, whilst retaining an air of professionalism due to an established business.
We used WordPress and the DIVI theme to build the site. The flexibility of the WordPress framework means that we will be able to add functionality to the website later if required. This may include e-commerce. DIVI builder is intuitive and allows Vicki and Matt to manage the website themselves going forward. This will avoid costly bills associated with developers and give them the freedom to own the site themselves.
We are really happy with the end result. The website has a unique feel to it that hopefully will slot in well with the Printshop's existing offline branding.
Project URL
Features
WordPress Build and Development
Get in touch
If you feel that PepperStreet can help your business develop it's digital presence please call on 07748 140697 or email hello@pepperstreetwebdesign.co.uk