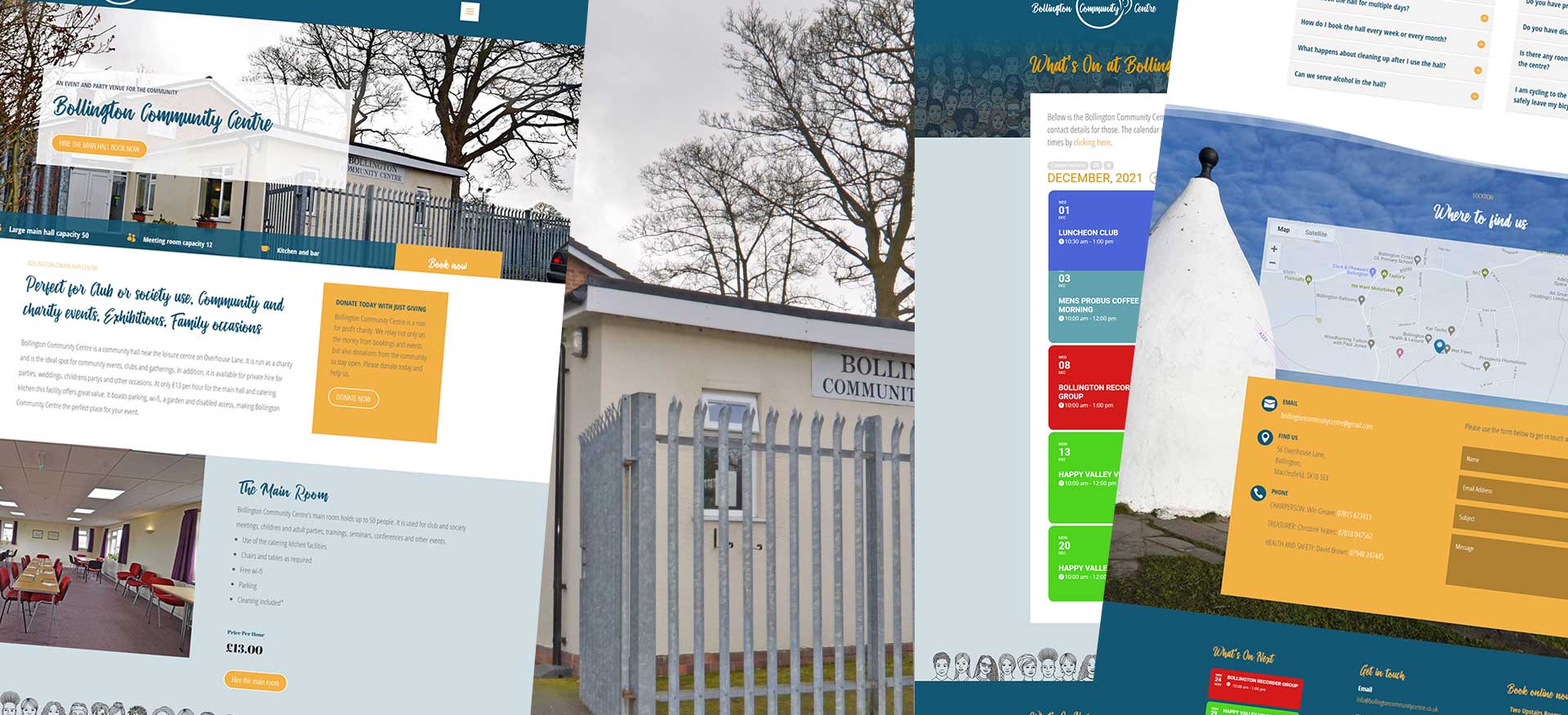 Online Booking for Bollington Community Centre
Bollington Community Centre hires out it facilities and wanted to automate the process so that the volunteers who manage the centre could do so more efficiently.
The Brief
To design and build and new website for the community centre in Bollington, to add in  calendar functionality so the community could see what was happening by date in the centre and to add in Online Booking facilities so people could see availability for the centre and then book and pay for hire online.
The Work
PepperStreet wanted to create a website that had UX at it's forefront. The site needed to work not only for the customers but for the volunteer admin team at Bollington Community Centre who were not technically savvy. The focus of the website was to provide online booking to make it easier to administer the function rooms at the centre and take online payments from people, which had previously all been done by bank transfer. The admin team at BCC worked really hard to understand the technoology we used to implement a solution.
We used EventOn to power the online calendar which would show public bookings for classes and meetings, and therefore had to be seperate from the private function room bookings. We then used PluginHives excellent Bookings and Appointments For WooCommerce Premium to allow us to present the function rooms as bookable resources.
The plugin allows us to implement flexible bookings for specific days with the customer deciding on the start and end time with 30 minute slots. So a customer could bok a simple hour slot or book out the hall for a function for 8 hours. The system then added in buffer time to allow for cleaning. The admin team could also enter manual bookings, so for reoccurring clubs and societies they can block out time on a weekly or monthly basis.
The plugin also mean we could enhance the original functionality the client requested at no extra cost as the plugin came with a myriad of additional features.
Get email notifications for a new booking, booking confirmations and cancelations.
Send email reminders to users for their upcoming booking or appointment.
Allow booking cancelations and set a time limit until when the cancelations can be accepted.
Enable booking approvals or confirmations from the Admin.
2 Way Google Calendar Sync
Accept partial payments and security deposits for your bookings using the WooCommerce Deposits plugin with the Bookings plugin.
Booking-Buffer-time
Create-bookings-manually
Bollington Community Centre was a project we were able to deliver over and above that expected by the client. Careful plugin selection mean we delivered a cracking solutions with enhanced functionality that has made the administration of the centre much easier.
Project URL
Features
Online booking, availabiliity and payment
More projects from PepperStreet
Get in touch
If you feel that PepperStreet can help your business develop it's digital presence please call on 07748 140697 or email hello@pepperstreetwebdesign.co.uk